Editing
Editing actions apply to the selected cell only. Rotate actions only avaliable when having selection.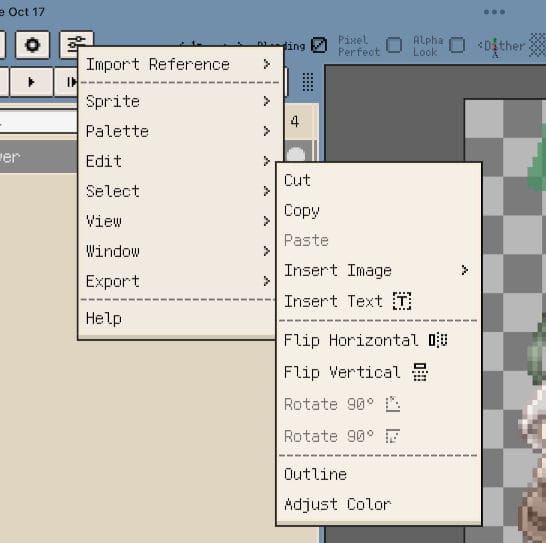 Edit menu
Action:
Cut: clear content and put into clipboard

Copy: save content to clipboard

Paste: paste content from clipboard

Flip Horizontal

Flip Vertical

Rotate 90 clockwise (Can only apply to selection)

Rotate 90 reverse-clockwise (Can only apply to selection)

Outline: draw an outline of the content with pen colour

Adjust colour: adjust colour by HSV offset

Insert image: insert a image into canvas directly
💡Note
If you want transform every frame and layer, see Canvas.
Quick outline
Menu->Edit->Quick outline. Draw an outline with the pen colour.
Has been replaced by Advanced outline in v1.6.
Cut, Copy and Paste
Located In Menu->Edit->(Cut, Copy, Paste), or in Selection tool options.
The clipboard is cross sprites. You can copy content from one sprite and paste to another.
Color adjustment
Located in Menu->Edit->Adjust color.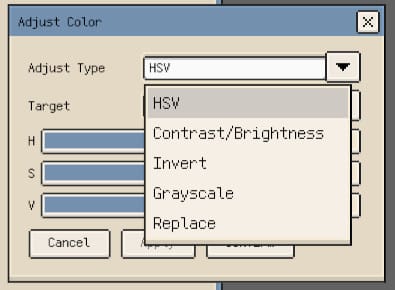 Adjust color
You can apply it to the selected layer/frame/cell, or the entire sprite, or the palette.
When applied to palette, if "Like indexed" is on, it will also modify the content. In this way, the palette and the canvas content are still consistent.
The dialog window is movable. You can click "apply" to preview.
Adjust by HSV channels
By adjusting the three channels of HSV, you can change the hue, saturation, and brightness of the color.
Adjust contrast and brightness
You can adjust the contrast and brightness.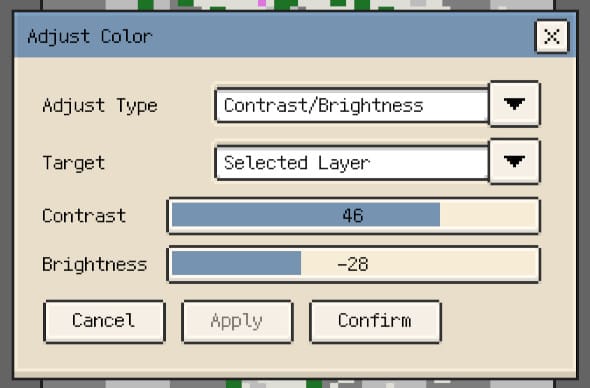 Adjust contrast and brightness
Inverse, Grayscale
Inverse or grascale the color of content.
Replace color
Replace one color with another. You can replace approximate colors by setting the tolerance.
Advanced outline
You can apply outline to the selected frame/layer/layer group/cell, or the entire sprite. You can also set the repeat time to get thick outline.
Insert image
You can insert an image into canvas directly, from the Files/Photos/Clipboard. Menu->Edit->Insert Image.
The image size should be less than 4x of canvas size. Too big image can not be inserted.
Last updated on October 17, 2023